What is WiFi Roaming?
Have you ever wondered how your WiFi connection follows you around the building? This useful networking feature is called Roaming. WiFi roaming occurs when a wireless client device moves outside the usable range of one router or access point (AP) and connects to a different one. The client device automatically switches from one AP to another AP as needed to provide seamless connectivity. In this ideal scenario, you will not experience the inconvenience of choppy video calls and low download speeds when walking from one side of a building to another.
How does WiFi Roaming work?
In theory, WiFi roaming works similarly to cell phone roaming. You need to have multiple access points (AP) throughout the building so that as soon as you're near the outer limits of one of the AP's range, your device is already in the range of another. In order to work seamlessly, all of the WiFi access points in the network need to be configured to use the same SSID (or network name) and the same login credentials.
However, WiFi roaming is decided by the client device, like your cellphone or laptop. WiFi Standards organizations (e.g. IEEE802.11 and WiFi Alliance) do not specify when or how a client device should roam. The wireless client device is responsible for deciding if it needs to roam and then detecting, evaluating, and roaming to another AP. There are 3 phases to this process:
Scanning: as the signal strength weakens as you move away from a point, the client device sends out probe packets to identify possible alternative AP. The device then selects its next AP based on the specifications of the device itself.
Authentication: the client device sends a request to the selected AP to be authenticated and awaits a response from the new AP that will either accept or reject it.
Re-association: when (and if) the AP accepts the client device's request, the client device sends yet another request, this time a re-association one. When the re-association is complete, the new AP sends out a disassociation packet to the former AP. The old AP is then disconnected, and the routing tables are updated.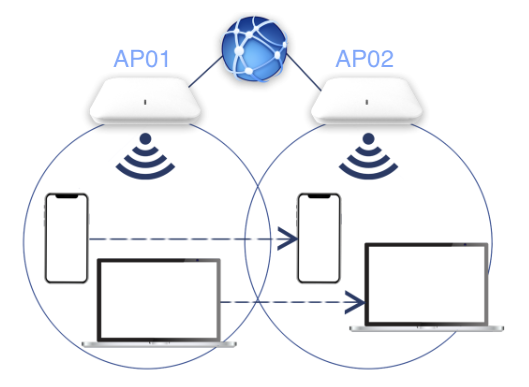 Common Issues with WiFi Roaming
There are two main issues when it comes to WiFi Roaming:
The client device that is using WiFi Roaming does not connect to the optimal AP. For example, a client device can be connected to a weak AP (in terms of signal strength) even though there is another access point available that can provide much stronger signal strengths,
The handoff between APs is not always flawless. There can be device drop-off and delays.
The handoff between APs depends on client's device. Certain devices like Apple Macbooks are known to be sticky clients, meaning they continue to stay associated with a lower signal access point when a stronger signal is available from another access point
Installing more APs or managing settings on an AP in an area can potentially increase the chances of a client device connecting to the optimal AP.
However, proper WiFi roaming requires more than just good signal strength throughout coverage areas. A balance between the coverage of APs on both the 2.4 and 5 GHz bands is needed to make roaming work properly.
Solution
Other than APs being able to perform the handoff of the devices better, what users can do on their end is toggle WiFi off and back on. This will allow the device to disassociate from the current AP and connect to an AP with the most optimal signal strength.